About
20 successful years in the Leasure Industry show that our approach of using creative innovation, adaptability and reliability succeeds.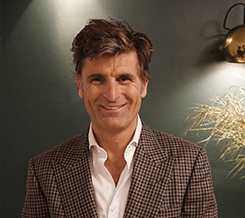 The entertainment industry represents the perfect symbiosis of adrenaline and security, creating and experiencing pleasure, innovation and consistency. Know-how is continuously transformed into new ideas to develop spectacular products that nobody has seen before.

In 2018 my team and I received the TEA Award and the Brass ring for the most innovative product in the industry - the SlideWheel, worlds first rotating water slide. In the foreground of all our present and future ventures should be inventiveness and creativity.
The knowledge of national and international safety standards, combined with German engineering and business expertise, should be the basis for future developments and activities in our ventures.

Rainer Maelzer / CEO
Leisure Consulting

White Water West Even during our time as an active competitor, we were able to follow the fortunes of the world market leader from Canada with great respect. Nowadays, we advise the WhiteWater team to be able to play a more dominant role in the European, African and post-Soviet market in the future. We are currently working on building a bridge to perfectly combine the strengths of both sides, the North American entertainment-heavy approach with the European love of detail. The vision is simply to help shape the best water parks in the future.

Therme Group Around the entrepreneurial personality of Dr Robert Hanea, extraordinary power and vision emerge. With the Therme Bucharesti, he has already successfully demonstrated how the wellness, leisure, and family entertainment temple of the future should be designed, build and operated. The future will bring even more exciting projects, developed by and through a team with unique worldwide know-how. We are pleased and honoured to be part of this team. We will design, develop and improve the world of attractions!
Health & Sanitize
for the Leisure Industry

Steripower The world currently changing rapidly and radically! Hygiene and disinfection have always played a significant role. However, there will be a greater emphasis in the future and will have a substantial impact on our actions for a very long time. We expected significant changes in the near future! Are crowds of people conceivable, what influence will this have on the economic and emotional operation of a leisure facility? Does social distancing allow successful and safe operation of a wellness and leisure facility?

We know the processes in water and leisure parks and are involved in planning and development from an early stage. For this reason, we see ourselves in a strong position to help shape the future in this area.

We have concluded a partnership with Steripower. We will exclusively distribute Steripower products in outdoor and indoor pools as well as in water and leisure parks. Together we will further develop the products and optimize them for our industry. We are pleased to have a partner with the highest quality standards made in Germany on board.

We have to meet the hygiene requirements of the future and create the conditions that will enable the reopening of leisure facilities. We prepare ourselves so that you will be well prepared and ready to re-start!
REAL ESTATE

MERCA Bau und Wohnkultur For the past 20 years, we have had the privilege of planning and implementing construction projects all over the world with illustrious people from different backgrounds and cultures. Whether Chinese billionaire, Russian oligarch, national and international politician, or extroverted star architect, we have been able to work with extraordinary personalities and gained invaluable experience that has made us the team we are today. It was not always easy, or rather, it was rarely easy! But we still managed it!

We would like to use this wealth of experience in national construction projects in the future. Together with Ralf Winter, Rainer Maelzer has found a property development company. For the time being, we will implement construction projects in the Munich area and southern Bavaria that meet our architectural and aesthetic requirements. We will realize beautiful architecture at affordable prices.
Park 54 GmbH In the idyllic Buchenhain near Pullach, bordering the Forstenrieder Park, embedded in a beautiful, idylic landscape, surrounded by lush vegetation, we are developing a project of eight semi-detached houses. With perfect sun orientation and unobstructed views over meadows in the west and the forest in the north, we will create a family-friendly property. Just 15 minutes from Munich city centre!

Look forward to first information in autumn 2020.

Aqua-trac GmbH
Zielstattstraße 11 / D-81379 München / Germany
Phone: +49 89 750 75 225
Mail: info@aqua-trac.de